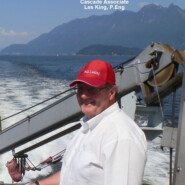 Cascade Facilities Management Consultants Ltd is very fortunate to have the loyalty and dedication of a group of professionals who offer their services to our clients.  Our associates have a variety of expertise: architecture, planning, engineering, management, purchasing, project management, and building technology.  They nearly all come from experience working in the public sector – a great advantage to our clients.  Whenever a public sector building owner asks us for facilities help, we can provide the appropriate associate to meet their needs.  Here are the key members of Cascade:
Bill Low, President, is a professional planner and engineer with years of experience managing publicly owned property and facilities at the federal, municipal, and school district level.  He is widely recognised by his peers as a leader in facilities management.  As the owner of Cascade, Bill puts a great deal of thought into the needs of public sector organizations with respect to their facilities.  He has also organized and delivered a number of workshops and can put together appropriate training or professional development to suit client's needs.  Bill was the team leader for Cascade on emergency planning and exercises in Delta, Saanich, Victoria, and Sea to Sky school districts and most recently in Portrait Homes, a private company seeking assistance with emergency planning.  He was the leader of the Due Diligence Review and Feasibility Study Teams conducting independent reviews of school projects in Saanich, Victoria, Surrey, Vancouver, and Chilliwack.  He also conducted organizational reviews of facilities operations in Cowichan, Langley, Mission, and Nisga'a school districts, and reviewed and recommended changes to custodial services operations in Nanaimo – Ladysmith and Langley school districts.  Bill wrote many Project Identification Reports for capital projects, and developed long-term Facility Plans for several districts.  Bill has also provided assistance to organizations seeking to hire new Facilities directors and managers.
Les King is a Professional Engineer whose career includes municipal engineering and school district facilities management.  His broad experience includes emergency preparedness, strategic planning, project management, change management, process analysis, and capital planning.  He has provided advice to the provincial government on managing the introduction of the Early Learning initiative and to Partnerships BC on management of seismic upgrade projects.  As a Cascade associate, Les recently completed Project Identification Reports for three projects in two different school districts.  In 2011-12, Les wrote two Long Range Facilities Plans for school districts, and led the Cascade team developing a Facilities Master Plans for the City of Nelson and the City of Port Coquitlam, BC.  Les also completed a building and workspace review which included a long-range facility plan for Peace River Regional District head offices.  In 2013 he updated the PIR for Rutland Middle School replacement project for Central Okanagan School District.  In 2014 he reviewed and made recommendations on the facilities management operations of Terminal Systems Inc, responsible for port facilities., and developed a Preventive Maintenance Plan for the City of Fernie.  In 2015 he completed the Rutland Middle School PIR for Central Okanagan School District 23 and carried out facility asset condition assessments on the municipal facilities of the Town of Golden.  In 2016 Les prepared documentation for the 2017 Capital Plan Submission for Comox Valley School District 71 and Vancouver Island West School District 84. In recent years, Les has developed the Facilities Strategic Plan for the District of Mission, Asset Renewal Plan for Mount Royal University, Space Allocation Plan for La Maison Francaise, and the Long Range Facilities Plan for Nechako Lakes SD 91.
Wendy Bennett provides Cascade with increased depth in the areas of health and safety management and emergency preparedness and planning.  With career time in both the health care sector and school districts, she has hands-on experience working with both managers and staff.  As well, she has had emergency preparedness training at the Justice Institute and volunteered as an Emergency Social Services coordinator during the recent real disaster of the forest fires in Kelowna.  Wendy can analyze and review your health & safety and emergency preparedness programs as well as present workshops to your staff.  As a Cascade Associate she assisted Sea to Sky School District 48 in 2009 and Portrait Homes Inc in 2011 to develop their emergency plans.  In 2012 she carried out a review of the Health & Safety Department of Nanaimo-Ladysmith School District 68.
Henry Ahking joined Cascade following his retirement as a facility planner for Vancouver School Board.  He is a registered architect with planning and facilities program management experience in school district, post-secondary institutions, and the private sector.  Henry is also LEED qualified, bringing expertise in environmental design and sustainability practices to Cascade's offerings.  He is adept at demographic analysis and strategic planning of facility needs.  Furthermore, Henry is knowledgeable and experienced at emergency planning and versed in the hazards of the west coast.  As a Cascade associate, Henry has provided campus planning services to several parishes in the Archdiocese of Vancouver, and in 2013 led the team carrying out a study of the facility upgrading needed for the Port Coquitlam Recreation Centre.  In recent years, Henry developed the long range facilities plan (LRFP) for Prince George School District 57 assisted University of the Fraser Valley with their annual capital program submissions, developed the LRFPs for Sooke SD 62, Saanich SD 63, New Westminster SD 40, and Vernon SD 22 .
Doug Stewart is a Chartered Accountant with extensive government planning and management experience.  Past assignments have included BC Ministry of Health, Assistant Director Capital Planning and later Director Capital Management in the Ministry of Education, Chief Financial Officer of the Royal BC Museum, and Director Funding and Compliance in the Ministry of Education.  Doug provides Cascade with strong analytical and communication skills relevant to facilities management issues.  In 2015 as a Cascade Associate, he developed the facilities management plan for a new Community Centre constructed for the Snuneymuxw First Nation in Nanaimo.
Tom Carras is a former custodial operations supervisor with Vancouver School District.  In 2011, he assisted Cascade with the Custodial Services review in Nanaimo-Ladysmith School District 68.  In 2013 he was part of the Cascade team assessing custodial services in Langley School District 35.  Tom brings years of practical custodial services experience both as a custodian himself originally and then as part of the management team in a school district.  He is currently providing custodial services assessment inspections to selected schools in Nanaimo-Ladysmith School District 68.  He is knowledgeable of health and safety issues, emergency preparedness, building security, and labour relations.
Adrian Kopystynski is a professional planner and member of the Planning Institute of BC.  He has years of experience in various municipal planning departments and is very familiar with local planning issues and challenges.  Adrian provides Cascade with important skills in demographic analysis and enrolment projections, and is adept at researching Statistics Canada and BC Statistics databases to determine future trends in population settlement patterns, growth, migration, and demographic characteristics.  His understanding of municipal planning adds an important dimension to the services provided by Cascade.  He has been part of our team on several long-term facilities plans where an understanding of demographic trends is an important component.
Michael Jackson is an accredited and experienced Project Management Professional (PMP) who has intimate knowledge of the necessary processes and procedures to successfully manage projects to completion. Michael has diverse experience in construction and tenant improvement projects providing valuable insight into Project Management processes and best practices.  He has demonstrated success in determining the client's needs, interpretation of conceptual designs, communications with the client/user groups, establishing of budgets and schedules, the procurement and coordination of project teams, and project control from concept to successful completion and handover to the client.  In 2014, Michael was Cascade's project manager on two BC Housing projects and managed the concept and preliminary design phase of renovations to the Kelowna Courthouse.  He is currently providing project inspection services on the BC Housing project Derby Manor in Burnaby.
Karen Hearn is the former Executive Director of Facilities Services at Kwantlen Polytechnic University (KPU).  With over 25 years' experience in Facilities Management she has a breadth of knowledge including the planning, design and operation of multiple buildings and locations.  Her particular passions are in leadership and mentoring; energy conservation and strategic planning ranging from capital plans to developing strategies to reduce costs while continuing to provide quality service.  While at KPU Karen and her team led the field in energy conservation and implemented projects and strategies so that KPU consumed 40% less energy than the average post-secondary institution in North America and was recognized with BC Hydro's highest award on six occasions.  She has overseen the funding submissions and construction of numerous LEED projects including the first two LEED Gold buildings in the City of Surrey.  Her skills include finding ways to get all stakeholders from owners, to consultants, to contractors to work together to create highly functional, attractive buildings/renovations which are affordable both initially and for the long term.  With a Masters in Leadership & Training, LEED AP and BOMI Facilities Management Administrator Karen brings creative solutions.  In 2017 -18, Karen is part of the Cascade team developing the Asset Renewal Plan for Mount Royal University in Calgary.
Bill Wenman is a retired military engineer with years of engineering management experience including as a restructure planning officer with the Canadian Forces in Europe. To complement his leadership and management skills, Bill also qualified as a certified financial planner and ran a successful financial consulting business in the Kootenay region of BC. He is the Vice-President of the Trail and District Chamber of Commerce and a Councillor for the Village of Fruitvale. Bill has also served the community as municipal emergency coordinator, search manager, and search & rescue instructor. Bill's current Cascade project is to develop the maintenance and services scope of work for a multi-year federal service contract for DND properties across BC. Bill brings valuable skills in engineering management, planning, emergency operations, and organizational efficiency.
Diane Bunnah is a former custodial operations supervisor with Nanaimo – Ladysmith School District. Since retiring in 2020, Diane has joined Cascade to carry out Custodial Services reviews, and already has completed one such review in a BC school district. Diane brings years of practical custodial services experience as part of the management team in a school district. She is knowledgeable of health and safety issues (including pandemic cleanliness requirements), labour-management relations, emergency preparedness, and building security. Diane has an outgoing cooperative manner which yields favourable results with custodial staff..
David Kotorynski is an experienced facilities planner who provides Cascade with more depth in public facilities planning and demographic analysis.  With past experience with Matrix Planning, BC Ferries, and the Government of Alberta, he brings a wide range of analytical abilities.  Dave has degrees in urban planning and public administration.  Part of his work with Matrix involved enrolment forecasts to support long range facilities plans for seven different school districts.  He is familiar with geographic analysis and GIS software mapping programs.  Dave is part of the Cascade team developing the Facilities Master Plan for the District of Mission.
Other Associates join us for specific tasks as needed.  Some of them have full-time employment from other employers but take personal leave to work for Cascade on short assignments.  For this reason, they are not identified on the website but the client is made aware of the situation.  These associates include architects, planners, engineers, and technologists with specialty skills including long range facilities plans, independent reviews, project identification reports, school site acquisition charges, demographics, Information Technology (IT) department analysis and reviews, traffic studies, facility audits, project management, and health & safety.